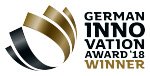 What better way to mill your flour than this stylish Mockmill grain mill.
Grind grains with ease. A push of a button will produce 100 grams of fresh flour per minute.
Stocked and shipped from the UK.
What kind of power adaptor is the Mockmill compatible with?
We ship the Mockmill with a UK power adaptor.